If you're chasing a good night's sleep, Literie Laval brings you locally made, premium-quality mattresses at below-market prices. To showcase their products and boost their online visibility, the family business relies on a dreamy Linkeo website and SEO strategy.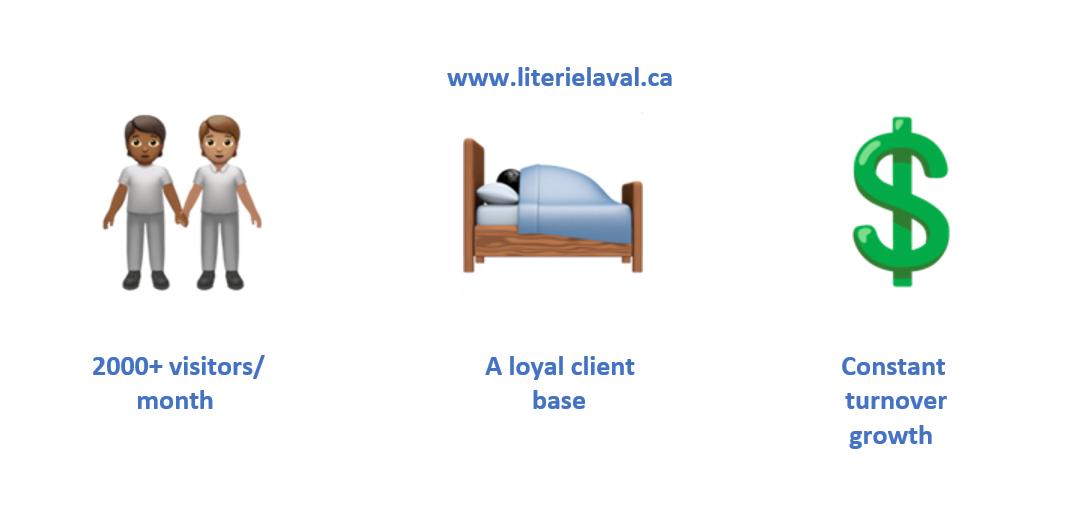 The Customer
Known throughout the Montréal region, Literie Laval offers your choice of foam, spring, and customized mattresses, with support ranging from extra soft to ultra firm. Back in 1985, founder Paul-André Chénard branched out from his teaching career to start his own mattress manufacturing company. His son Jean-François hopped on board to keep the family spirit going and continue their tradition of high-end, affordable comfort:
"The difference with us is you're buying it directly from the manufacturer. So you skip the intermediaries and inflated prices you'll get from your typical big-name stores. We've chosen to stay relatively small to make sure our customers get exactly what they need. "
The Challenge
In the early 2010s, Jean-François knew it was time to cast a net out into the interwebs.
"We're located in a bit of an industrial playground. Since we're off the main strip, it's hard for people to find us if they don't know we're there."
Previously, the company had invested in local newspaper ads, but this can get expensive for a small business, since you need to keep paying to stay visible.
"I was ready to build my online presence. With print advertising, if you're not always there, you don't get the results you want. The Internet seemed more sustainable, and I knew I could trust a well-known web agency like Linkeo."
The Solution 
Sleek and charming, Literie Laval's Linkeo website features fun photos of customers catching their winks amidst clouds in the sky. Jean-François has a slight allergy to the magical thinking and formulaic marketing you might get from larger scale mattress companies. He was seeking a more personal touch.
"While most mattresses need to be replaced every 5-10 years, you can count on ours to last for a good 15. But I didn't want to present a bunch of fluffy gimmicks. I wanted to show that it's still possible to obtain quality craft from Quebec artisans. That you can work directly with your manufacturer to land on a mattress that makes sense for you."
Instead of empty promises, Jean-François has filled his Linkeo website with clear and important information about mattress materials and the benefits of each option. And thanks to a winning SEO strategy, keywords draw in customers from a wider catchment area, far beyond their concrete neighbourhood.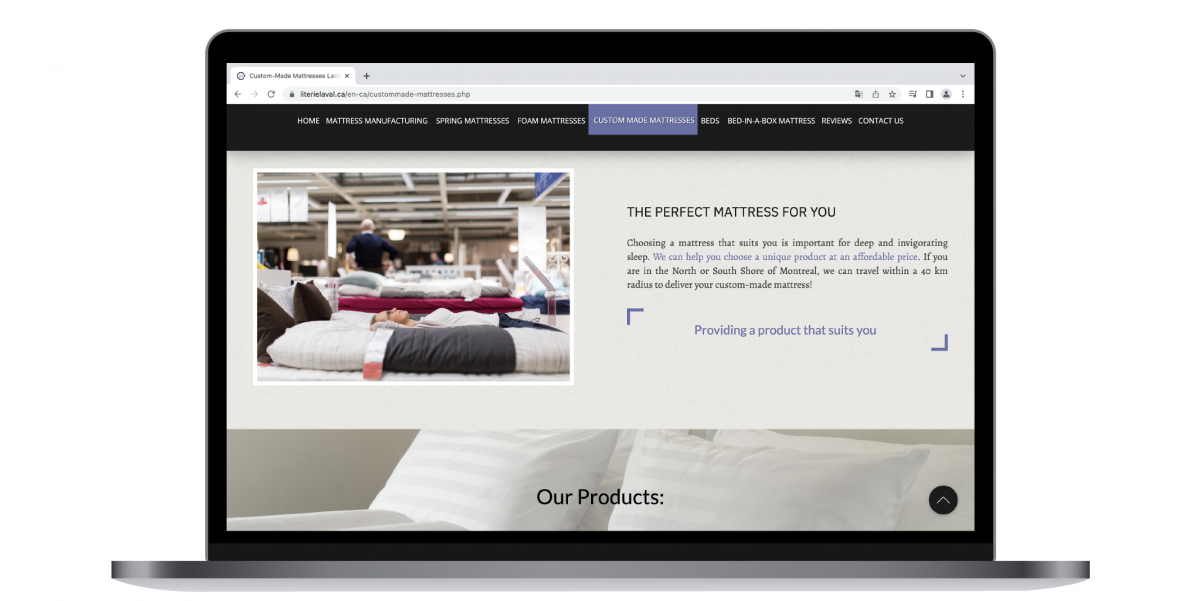 The Results
Literie's Laval's website attracts more than 2000 visitors per month.
Since signing with Linkeo, the company has seen a steady growth in sales, with a big peak during the pandemic when everyone rushed to buy mattresses instead of going on winter vacation. His website attracts over 2000 visitors per month.
"With Linkeo, I benefit from a level of visibility that would cost us a fortune without the Internet. It's an affordable, accessible service—perfect for small businesses."
Jean-François is grateful that he can trust Linkeo to continue to grow his company's reach through a solid online presence and tailored ad campaigns. "There's no way I could manage those campaigns on my own."
But with Linkeo's support, he can focus on his favourite parts of his job—working with people.
"I realized that my clients were moving to Toronto and coming back to Montréal just to buy our mattresses. People say that our mattresses changed their lives and I'll do everything I can to keep doing what I'm doing."
And isn't that the stuff that dreams are made of?